This document provides a general outline of the hardware and software required for TDF CRM. There are many variables in your computing environment that can affect the performance an end user experiences. At the start of your implementation a TDF IT Environment Consultant will work with your IT team to identify any potential bottlenecks in your systems before you order any new hardware or software upgrades.

General Requirements
White Cup provides the TDF CRM application software. In addition to hardware, you will need to provide the Microsoft Windows, Microsoft Office, and Microsoft SQL software and necessary Microsoft licenses for user access.

Server Requirements
TDF CRM is usually installed using two Windows servers. The first is the SQL database server and the second is the TDF server that hosts the website, integration services and configuration tools. Both of these can run on physical servers or virtual servers provided the resources of the host are not over allocated.
SQL Database Server Requirements
A high performance SAN or disk array using SAS or SCSI drives is recommended for the SQL database files.
64bit Windows Server 2012R2 or greater with 64 bit Microsoft SQL 2014 or greater. See the sizing guide in this document for the correct edition of Windows Server and SQL Server.
Microsoft SQL licenses are not included in your TDF quote. If TDF is your only application requiring SQL contact our sales team to request a quote with discounted pricing for SQL runtime licenses.
TDF Server Requirements
64bit Windows Server 2012R2 or greater with IIS enabled. See the sizing guide for the correct Windows Server edition.
Microsoft Office (on a version currently supported by Microsoft - versions no longer fully supported by Microsoft may not work with TDF CRM and are not recommended) and Microsoft .NET 4.6 framework.
The BI integration service requires database level access to your ERP (business system). Depending on the ERP you use this may require installation of an ODBC driver you obtain from your ERP provider.
A publicly available IP address allowing HTTPS access to the server.
The TDF Alert service requires a mail account on your email server with rights to relay SMTP messages.
The TDF Email Logging service requires a mail flow or journaling rule on your email server that directs copies of messages to a central mailbox for processing.
Client Requirements
Windows Client and Outlook Add-in Computer Requirements
Windows 10+
Microsoft .NET 4.6 framework
Office 2013 or greater (32 or 64 bit) for integration with Outlook, Word and Excel
1280 X 1024 or better resolution display, keyboard, mouse
Minimum dual core 2.0 GHz CPU and 4 GB RAM
Note: While the above specifications are sufficient for most users; power users, who load a few hundred rows of information for analysis will need additional resources. Their computers should have at least 8 GB RAM and 64 bit Windows, Office and TDF CRM client installed. For most companies this is a small number of users with companywide permission to sales information.
TDF Web Client Requirements
Smartphone or tablet with up to date Chrome, Firefox, Safari, or built in browser.
Laptop/desktop with the latest release of Chrome, Firefox, or Safari browsers.
Sizing guide
Some companies have a higher number of TDF users while others have a higher number of transaction than others. Both factors impact server sizing. Please use both factors listed in the first table below when identifying what server size fits your company. If you want to implement TDF CRM on an existing server that already has a workload, you should increase the resources above the values listed below to accommodate the needs of TDF and the existing workload.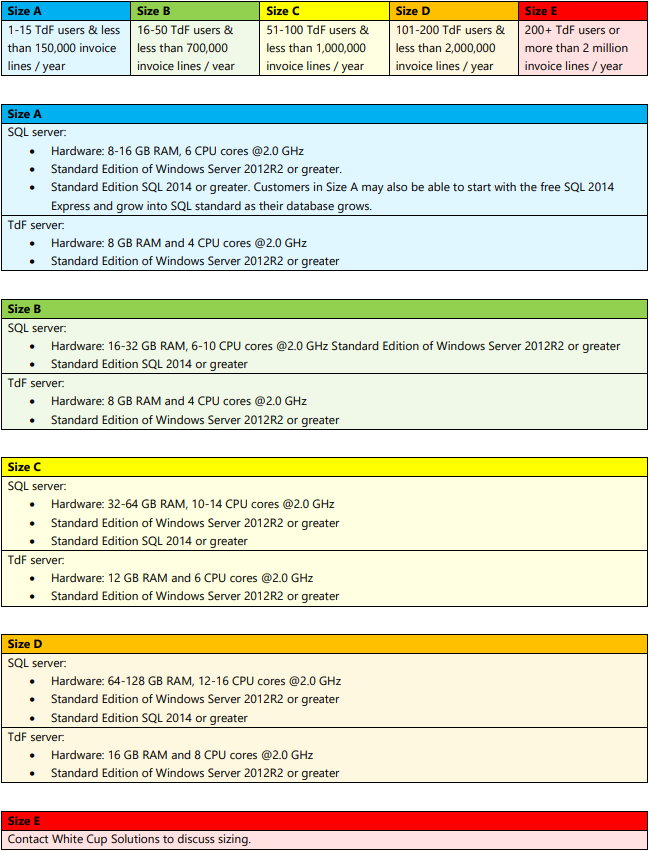 If you have questions we haven't answered here please contact us at 877-285-4800.