Creating a New Credit Application
From Opportunities
With the account open, select the Opportunities
Click the Financial Institutions dropdown and select Credit Application. The Select Credit Application window appears where you can select credit opportunities on the account.
Select the Opportunity you wish to submit a credit application from the list.
Click Create New. The Credit Application window appears.
Within the Select Financial Institutions section, select the bank you would like to submit the credit application to.
Navigate through the Customer Information, Lease Information, Guarantors, Assets, and CIT tabs ensuring all required fields are entered.
When finished, select Applicant Approved for Submission.
Select Save & Close to submit the application.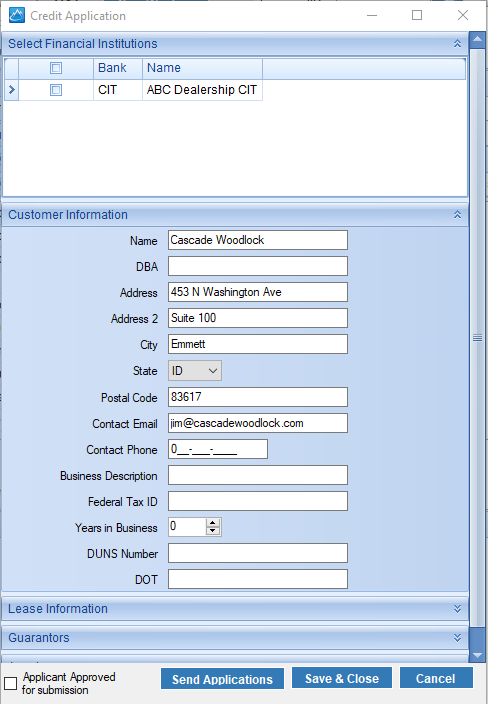 From Financials
From Financials, select Partner Tools > Submit Credit Application.
Complete steps 5-8 from above.
Existing Credit Applications
Within the Select Credit Application window, you can view Existing Credit Applications sent to First Citizens for the account open in Sherpa. Selecting Open for a specific credit application opens the Credit Application window allowing the user to make changes and re-submit.
Selecting Delete removes the credit application from the screen, but it is important to note that this does not mean the application is cancelled on First Citizen's side. Users will have to contact First Citizen directly to cancel the application.

Viewing Credit Application History
With the Account open, click the Modules dropdown and select Credit Application History. The Credit Application Decision History window appears.
From this screen, users can view any past credit applications they have submitted, as well as stay up to date with decisions made on applications.
Users will also receive an alert within Sherpa that notifies them when a credit application decision has been made.