General Overview
This module allows you as a company to have control over your customer contact list and the personal data that is being stored. It will ensure their information is being securely protected under the General Data Protection Regulation (GDRP).
Contact tracking fields have been made available in the Contacts tab of an account allowing you as a dealer to track each contact individually for their consent to store personal data and in what ways their personal data can be used.
This feature provides a checkbox for "Consent to Store Data," as well as the ability to create various Contact Market lists that can be selected for each contact. These Contact Market lists, defined by an Administrator, help clarify and track what type of communication and data use each contact has approved, such as email marketing about product promotions, industry news, prospect touches, and general marketing content.
Creating Contact Market Lists
Navigate to your Administration Menu and Control Panel create your Contact Market list.
Go to Edit Various Lists and Contact Markets

Click the Green

button to add to the list

Enter a name and hit ok
Check an item and click the Red

button to delete it from the list

Consent to Store Data
Within the Contacts window when adding new or editing an existing contact, you can check the box for "Consent to Store Data" when contacts give authorization. As contacts request to be removed just uncheck the box.

Contact Market Lists
As users consent to have data stored you can then check what marketing items; they would like to receive from you as a dealer. As contacts request to be removed from marketing items just uncheck the box next to the item in the list for them to be noted as wanting to be removed from that list so when you run your next contact filter to import into your Marketing Software they won't show up.

Filtering on Market Lists
You can filter marketing lists for import into marketing systems when sending email blasts by the contacts flagged with Contact Markets.
Sherpa Navigator
Go to Reports>Sherpa Navigator

Choose the Account and Marketing Contacts data load filter

Choose the Contact Market item you want to filter by

Load Grid
You can then follow the same process you would with any other Sherpa Navigator filter for Adding Columns, Advanced Filtering, Exporting, etc.
A displayed record count will be at the bottom showing the total number of contacts for that particular Contact Market item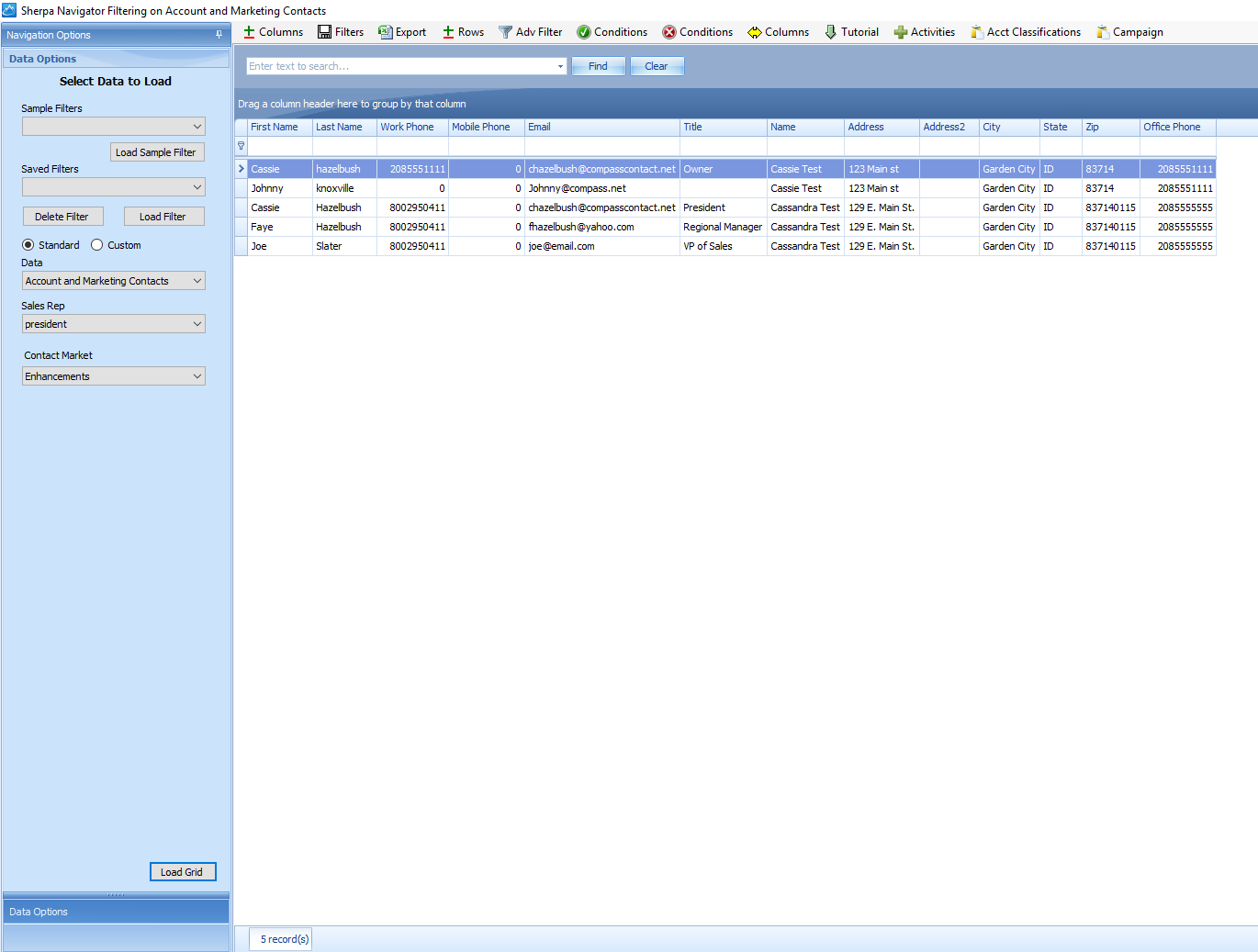 If you want to add additional columns, choose the Add/Delete Columns and choose from the available columns to add to the grid.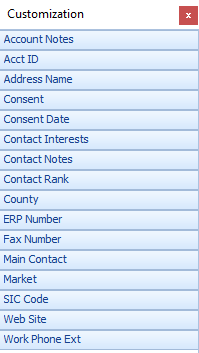 Once you have your list structured you can also do some Advanced Filtering as needed to get a more targeted list of contacts to export.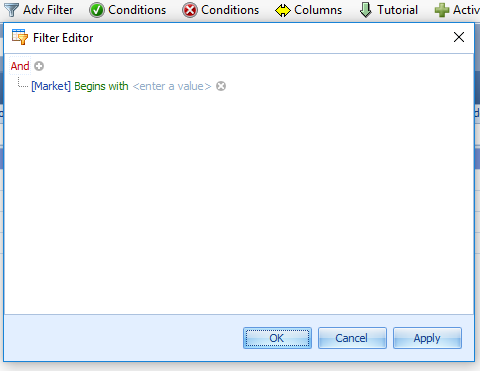 You can then export the list to Excel to then use as a file that would get imported into your marketing software.

Direct Marketing Export
Go to Accounts>Search

Choose to filter your accounts by Contact Market

Select the Contact Market type to search accounts by in the dropdown.

Once you hit Search your results will appear

Export the list to a Direct Marketing .csv Excle file.

Direct Marketing: The direct marketing button is available on a per user basis set by the administrator and is used to export contacts for outside Marketing Programs. If this button is showing, you can do a search in the Search Accounts area, then click the Direct Marketing button to export the contacts showing in the results of your search. When you click on Direct Marketing it will ask you where you want the file saved to. Browse to the location and click Save, and the file will be saved to that location. The columns exported will be the Phone Number, Company Name, Industry (pulled from the SIC Code field), Rep Name (if it is a Named Account), and Branch Location (pulled from the Address field). This can now be imported into the Marketing Program of your choice for mass marketing purposes.