Review Database Changes
Review Database Changes
To get to Review Database Changes go to Administration Menu on the Main Menu Bar and Select Review Database.
Review Database Changes allow you to review changes that have happened within the last 6 months in the database. You can filter by Date Range, By User, by Change Type, or any combination of those. This is for reviewing changes only; changes and deletions to information made cannot be recovered here.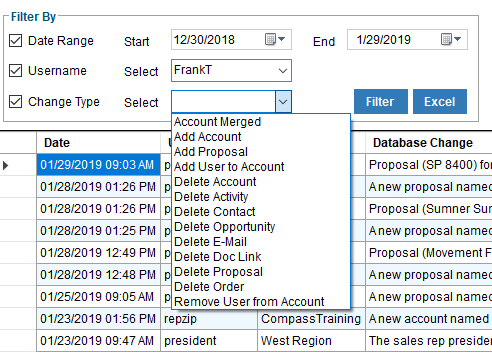 Options for reviewing changes can be filtered by Date Range, Username, or by change type.

Under Username, you will not necessarily see all your users listed. You will only see the users who have a change listed.

Under Change Type you can choose from: Accounts merged, added or deleted, and activities, contacts, opportunities, e-mails, document links, or proposals deleted. You can also see if users were added or removed from an account.
Simply enter check the box or boxes of the information you want to filter the results by and enter the information and click the Filter button to see the results. Results will show the date the change was made, the user who made the change, the region, and a description of the change made.
You can also export this information to excel by clicking on the Excel button.