General Overview
The Flat Rate feature allows the user to propose a Flat Rate for devices in the Printer Pricer instead of using a CPP rate, and then carry those rates through to Financials as separately calculated rates.
Printer Pricer
Authorized Models Grid:
The user can flag individual devices for Flat Rate pricing by checking the box in the Flat Rate column and then entering the Flat Rate dollar amount in the column to the right. When data is entered into these Flat Rate columns, the device calculations will ignore any CPP rates, volumes and fill ratios, and then use this new Flat Rate value instead.
Monthly Calculated Totals:
There is a Flat Rate column to track the total Flat Rate proposed amounts. This column is located to the right of the Mono and Color columns, which calculate the blended CPP rates for the deal. Any back calculations made in the editable fields of the CPP columns do not affect the Flat Rate total.
Financials
In Financials, the Mono Bundle Printers area shows the total Flat Rate as its own field underneath the Monthly Service field. The Flat Rate amount is added to the Total Print SRVC Payment field under the Financial Summary along with the total Mono and Color Monthly Service values for the CPP printer totals.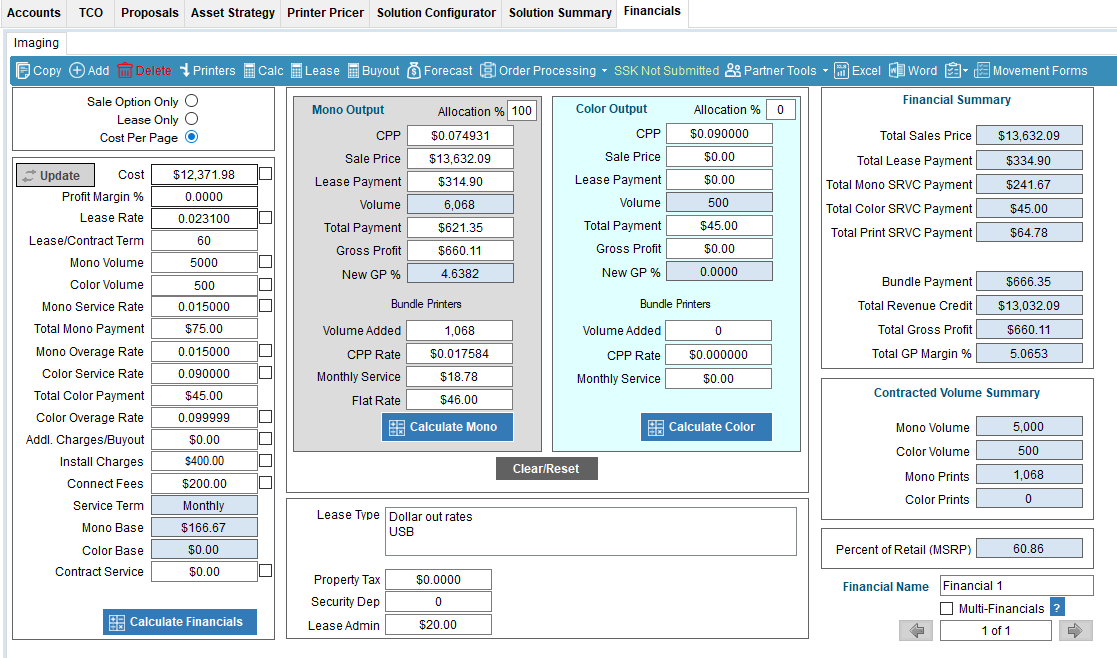 The Flat Rate data is included in the Financial Summary & Details reports.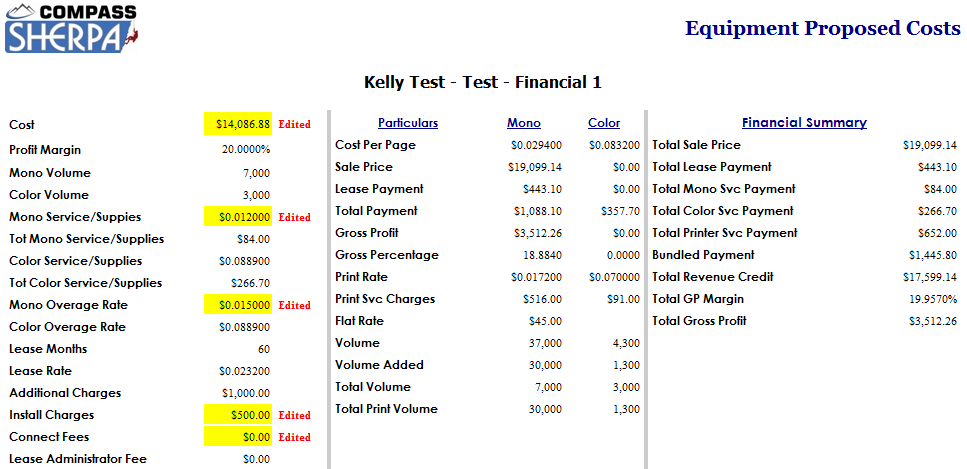 Bookmarks
Five new bookmarks are available for Flat Rate pricing. They are available in Printer Pricer, Financials, ES and Order Processing. These bookmarks are:
Printer Pricer by Device

PPisFlatRate

PPFlatRate

Printer Pricer Totals

PPFlatRateSubTotal

PPFlatRateMargin

Financials

FinancialsFlatRateTotal