General Overview
The Solution Summary tab is great for a quick final glance at all machines you have selected or entered manually in Product Configurator, for a proposal. You can also change the order of the equipment and how it will print out on your proposals and paperwork, edit the description of the equipment and how it will print out on proposals and paperwork, edit your Out cost, and change the quantity of your items or delete them.
Equipment Detail will show details for whatever item you have highlighted on the right-hand side of the screen.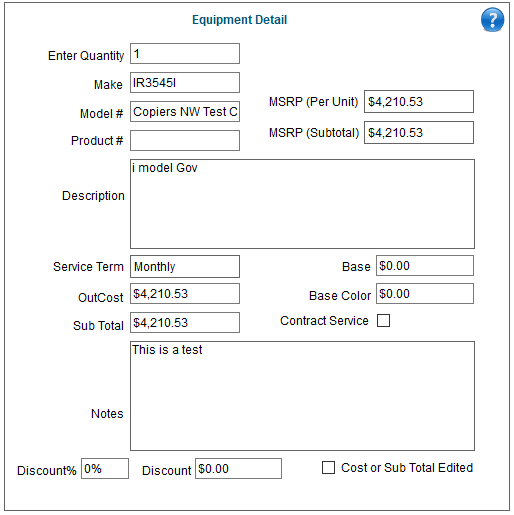 Editing Pricing Data: White fields (Quantity, Description, out cost, Base and Notes) on the left-hand side of this screen, under Equipment Details are editable by you. To make changes, first highlight the item on the right that you wish to make edits to, it's information will populate on the left where it can be edited. It is recommended that if you make any changes to the pricing fields to enter a reason in the Notes field; this will print out on the Financial Details portion of the order processing paperwork.
Contract Service: This is a module that by request can be turned on and adds checkboxes in Solution Summary to select items you'd like to mark as "Contract Services." These items will pull their out cost to a new field in Financials for Contract Services, which in not included in the margin calculation.
Note: Contract Services used to calculate by dividing by the lease/contract term. It now multiplies by the lease rate.
Changing Line-Item Order: Changing the line-item order affects what the order is of the machines/accessories when they are populated onto a Proposal Document or other template. To change the line item order, first highlight the item on the right that you wish to change the order of and drag it to the appropriate position.

Print Equipment Button: Provides a report that shows all Equipment costs and which fields, if any have been edited.


Delete Item Button: Will delete whatever item is highlighted in the equipment list.

Delete All Items: Will delete all items in the equipment list.