Best Practices and Suggested Guidelines
The following is a Best Practices Guide showing user expectations as well as Administrator responsibilities on a monthly, quarterly, and as needed basis. These are guidelines based on years of feedback from our most successful dealers.
Recommended Guidelines:
We recommend the following guidelines in order to most effectively integrate Sherpa into your Sales organization. This document is broken down by the 3 main areas of responsibility to ensure you're getting the most out of your Sherpa investment.
Sherpa Overall Philosophy:
Sherpa recommends using the philosophy of "If it's not in Sherpa, it didn't happen". All orders must be processed through Sherpa, using the Company provided Sales Templates/proposals and Order Processing/closing sales paperwork to submit deals. Whether this is achieved by the Rep putting the information in themselves, or by an assistant, commissions will not be paid until information is entered and the order is processed though Sherpa.
Set Up – How you structure your system:
In order to successfully use Sherpa, you need to make sure a few key areas are set up correctly.
Enter recommended Activity types with point values, SIC codes, Vertical Marketing Checkboxes and Sales Stages. This will provide your dealership with crucial reporting in these areas.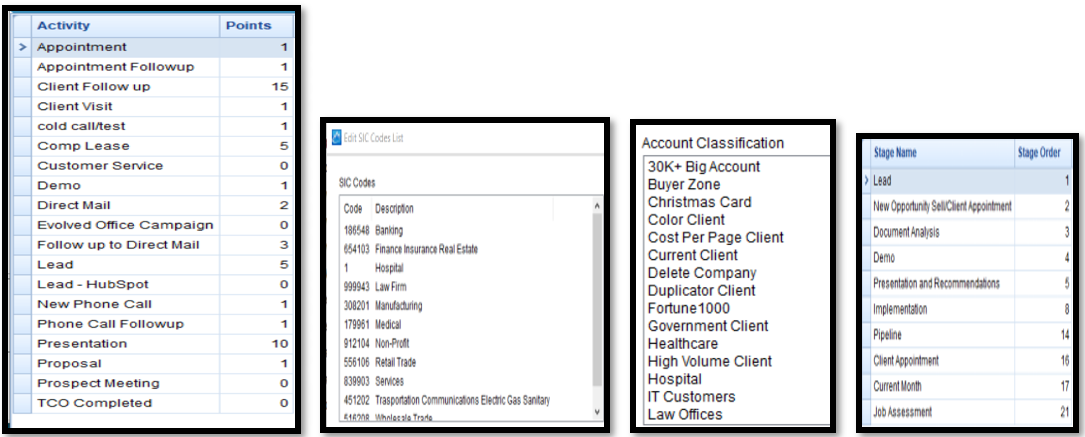 Review all settings in the Control Panel including drop down lists and delete options. Recommended suggestions are below:




Sales Representative
Basic Requirements:
All Sales Representatives' activities must be entered in Sherpa within 24 hours.

All proposals must be created inside of Sherpa.

Sales stages must accurately represent the current status of your pipeline.

Attend at least 1 Sherpa Webinar per month - New Reps need to attend all Sales Webinars during training period.
Contact Activity Requirements:
It is expected that you will contact all Current Customers and Prospects directly a minimum of once per quarter. This is a minimum requirement and it is expected that your activity will be at a level necessary to achieve appropriate results. To identify accounts with no activity, build a Filter on Current Customers with zero activity or on Prospects with zero activity.
General Policies:
Make sure you run any updates when you receive the "update window" notifying you there is an update available.
Accounts
Maintain all basic account information including addresses, contacts, etc.

Identify accounts that need to be merged and/or deleted to ensure data integrity. Always put a note in the Account Notes box detailing why the account needs to be merged or deleted.

Always check in the Duplicate Account search to identify accounts that may already be within the database and outside of your assigned territory in order to avoid adding duplicate accounts.

Responsible for maintaining all classifications (i.e. sic codes & vertical markets) for accuracy in reporting and filtering.

All activity needs to be logged into Sherpa including all email communication

Link all related documents to account.

Enter all Forecasting into Opportunities Tab.

Maintain Opportunities and progress them through the sales funnel.
TCO
Enter in all clients' document output expenses including printers, MFP's and outsourcing.
MPS
It is expected that a minimum of one MPS opportunity is uncovered per week.

All assessment information is entered in TCO.

Asset Strategy should be used to strategize solutions and identify what devices are going to be kept, replaced and if any volume is going to be migrated.

All MPS opportunities need to be forecasted through Printer Pricer and staged in "Document Analysis" in Sales Stages.

Use IDM (Intelligent Device Mapper) to scan in a customer's floor plan and show a visual current vs proposed solution.

View the MPS video found on help.whitecupsolutions.com

Proposal / Paperwork Generation

Utilize Printer Pricer to determine your MPS costs.

Utilize Solution Configurator to configure your recommended hardware.

Utilize Financials to determine costs and generate proposals.

All forecasts must be generated and maintained – including tagging as closed or lost as needed in the Opportunities tab.

All orders must be processed through Sherpa, using the Company provided Sales templates and Order Processing/sales closing paperwork to submit deals. This can be achieved either by the Rep themselves or an assistant. Also include Financial Detail Report.

All deals must be submitted through the Order Processing pipeline if your dealership has this add-on module.

Datamine for opportunities in Sherpa Navigator and filter off of ERP data.
Sales Manager
Sales Manager will review the following reports Weekly, Monthly, Quarterly and as needed.
Basic Management Requirements:
Reports:

Weekly - Activity Reports, Sales Stages, Forecast & Closed, Current campaign, available and missed opportunities.

Monthly – Lost Sales, Lease Expirations, Points Report, Activities not completed and Zero activity.

Quarterly – Activity Ratio Report.

As Needed - Review and approve all Sales Orders including any "edits" on the Financial Detail Report.

One to One Reviews:

The Sales Manager will perform a monthly one to one meeting with each Sales Rep who is not achieving quota. This meeting will be performed using the Sales Stage Report and drilling into activities to validate the staged opportunity.

Training:

Send Quarterly Sherpa webinar Training schedule to all Sherpa users.

Require all Reps to attend a minimum of one Sherpa Training webinar per month.

Require new Sherpa users to attend full product webinar upon hire.

Attend Sales Management Training Webinar.

Enforce all Sales Rep Requirements.
Senior Management / Owner
Senior Management will review the following reports on a Weekly and Monthly Basis.
Upper Management Requirements:
Reports:

Weekly - Forecast & Closed

Monthly – Forecast, Closed and Lost Sales, Lease Expirations, Points Report

Administrator
A good Administrator is crucial to your Sherpa Success!
For the users to effectively and profitably utilize Sherpa, the accuracy of the back-end data is imperative. Your role as an Administrator is to ensure that Sherpa has up to date, accurate information that will allow the reps to utilize the CRM (Accounts) section, along with being able to prepare accurate and professional proposals.
Below is a list of Common duties that an Administrator would be responsible for doing on a monthly, quarterly and on an as needed basis, as well as an estimated time frame to do so.
*Average time is based on the actual update time in the system for an account with 20 Users, 3 Manufactures, and not utilizing the Sherpa Professional Services Team
Basic Requirements:
CRM
Review accounts tagged for deletion and delete them, if necessary, on a monthly basis. –

20 Min.

Merge all Duplicate accounts that were tagged as merged and utilize the Merge Tool in Administration, monthly. –

30 Min.

Add new users as needed. –

5 Min.

Unauthorize / Delete users and reassign territory & named accounts. –

10 Min.

Force password changes as needed. –

1 Min

Add any new data imports –

30 Min.

For all closed deals verify that the Current Client checkbox is checked, that the forecast was closed out and enter in the ERP customer number. Optional idea is to transfer in the machines from TCO. –

5 Min per Closed Deal.
Equipment
Add new products and accessories, as needed. –

1 Hr. depending on the Manufacturer

Update pricing including dealer cost and promotions. –

1 Hr. depending on the Manufacturer

Update Lease rates quarterly or as needed. –

30 Min.

Revisit Service Rates annually with Service Manager or as needed. –

30 Min.

Revisit Install and Connect fees with Service Manager. –

10 Min.

Offer a few proposals options for the reps such as a 1 page, 4 page and Fleet Management proposal templates. –

1 Hr.

Run the TCO Updater at lease quarterly (updates are being added consistently). –

5 Min.
If using Lease Tracker Module, map updates from your Leasing providers, import in Lease Portfolio Reports & run reconciliation monthly. Assign leases to reps if more than one rep is assigned to the account. – 30 Min.

If using the UCC import, update on a monthly basis, or as needed, anytime you receive an updated spreadsheet from EDA. –

30 Min.

MPS Price Book
Import new prices and printers from Suppliers using the import feature. –

10 Min.

Run the Audit Report in the MPS Price Book Reports to ensure all consumables, costs and yields are properly entered. –

10 Min.
General Policies
Make sure all users are running any program updates.

Be your Company's contact person for any Sherpa Support related items.

Notify Reps of Sherpa training videos on website.

Make sure you have signed up for our email blasts and newsletters through our website and are following us on our social media sites to keep up to date on enhancements, Tips and Tricks and Sherpa events.
Sherpa Website – Training Videos
Go to help.whitecupsolutions.com and click on Sherpa CRM. This will take you to all training materials available. There are Tutorial videos available on the Sherpa Video Library link that you can view anytime. Conveniently broken up in Admin and Users.