Most items in the mobile app are linked. For example, if you're viewing an account and you see a contact, you can tap on the contact to view it. If you're unsure if an item is linked to another item, tap it and see.
While viewing an item in the mobile app, other parts of the item can be tapped for other actions. Tapping a phone number while viewing a contact or account will allow you to place a call. Tapping on an address will bring up your devices' map tool. Links to websites will open your browser to that page. Tapping an email address on a contact will allow you to send an email to the contact.
In addition, different items can have other information blocks. Shown here are the information blocks available when viewing and Account item with Distribution Sales Enablement.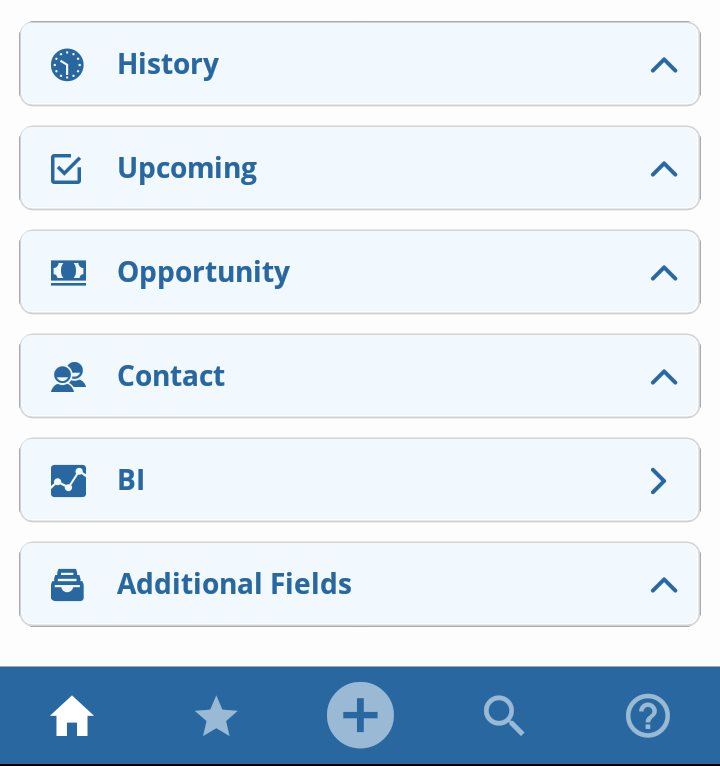 Tap the heading to expand the section and see more information. Tap the heading again to collapse the section.
Upcoming - displays any future events associated with this account
Opportunity - displays open opportunities for this account
Contact - displays a list of contacts attached to this account
BI - displays available dashboards and scorecards based on your account's security settings
Additional Fields - displays other information available about this account
Other information blocks you might see include:
History - displays a history of activity associated with this item
Upcoming - displays activity in the future associated with this item