Version 12.1 adds the ability to add number formats (dollars, percent, and commas), and override the decimal display precision on grid style reports in MITS Discover. These features are available for standard and calculated columns.
Both features are accessed by clicking on the column header when viewing a report, and selecting the option "Format".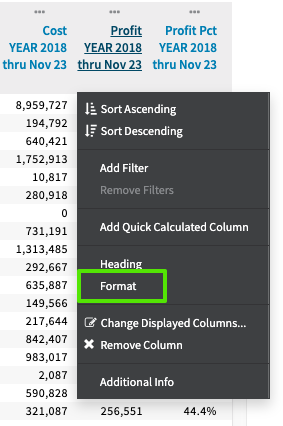 Number of Displayed Decimal Places
This option gives you a range from zero to four decimal places. Select the number of decimal places you want to have displayed from the drop down menu.

Format
This option allows you to display additional formatting to the values in the column. Your choices are to add a dollar sign, a percent sign, the number without commas, or the number with commas. If no choice is selected, MITS Discover will use the default formatting in the column definition.

At this time, the options available are limited to these choices. If you have a need for further decimal precision or different types of formatting, send an email to support@mits.com. They will be able to send your request to the development team for possible inclusion in a future release.