Creating A New Dashboard
To create a new dashboard, go to the Dashboards tab and click on New on the menu bar. You'll be presented with options for creating a new full screen or sidebar dashboard.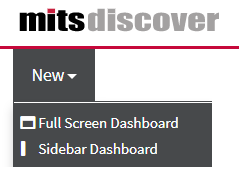 Full Screen Dashboards fill the main area of the browser window and can have two, three, or four columns.
Sidebar Dashboards only take up part of the browser window and only has one column. The Sidebar Dashboard stays visible on the left side of the screen while viewing reports, other dashboards, and other parts of MITS Discover.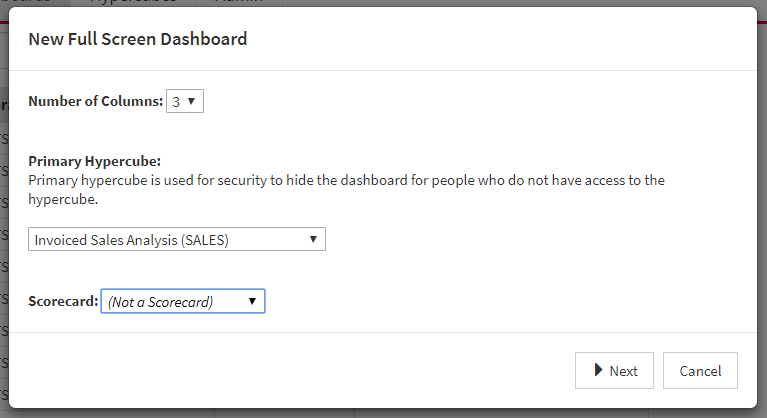 After selecting the type of dashboard, you'll be presented with options. If if you selected a full screen dashboard, you can select the number of columns here. You must select a hypercube to be the base of the dashboard for the purposes of security.
If this dashboard is to be a scorecard, see the section below.
Click Next to advance.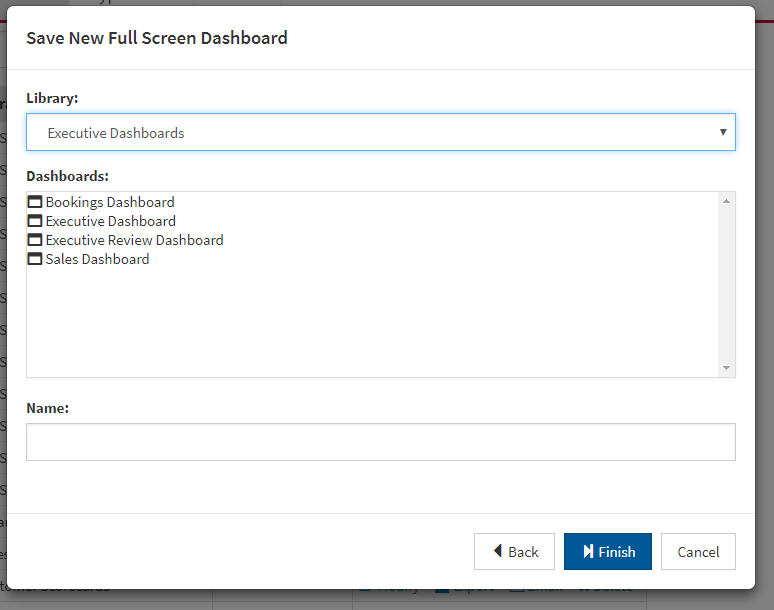 Select the library where the dashboard is to be saved, and give it a name. Click Finish and you'll be taken to a blank dashboard where you can add objects. Dashboard objects are covered on another help page. Search for "Creating New Dashboard Objects".
Creating A New Scorecard
The difference between a scorecard and a dashboard is that a scorecard prompts the viewer for for a specific value that becomes the basis of the scorecard. This is used to view information about things such as a specific sales rep, a warehouse, or a product.
To create s scorecard, follow the same steps above to create a dashboard. When you reach the step where there is an option that says, "Scorecard" the default will be Not a Scorecard. Click the box to see a list of available identifiers from the selected cube. Any of the identifiers that appear at the base of the cube can be selected as the basis of a scorecard.
Below is an example from a standard SALES cube.