Calculated Columns provide the ability to create a column that displays the result of arithmetic, date/time calculations, or text processing function run against one or more pre-existing columns. The full list of available functions can be found in article Column Functions Reference.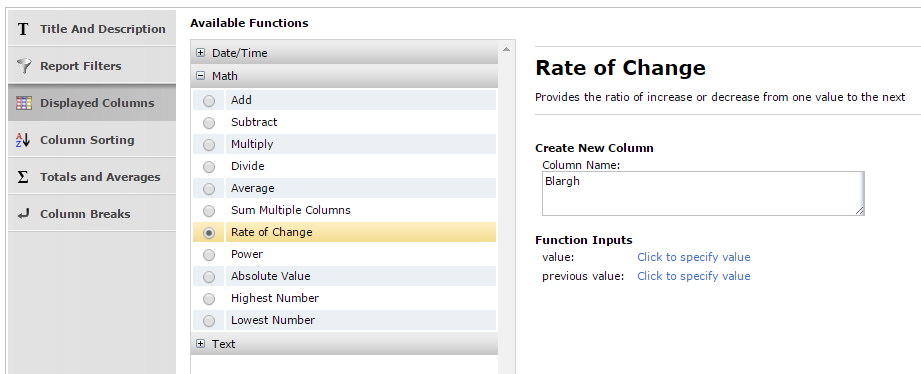 Just like with any other report column, there are two ways to add a calculated column to a report: from within the Displayed Columns configuration tool or using one of the Insert Column options in the column menu of the report.

Click the Add Calculated Column link at the top or the bottom of the Current Columns
Expand the desired function type list under Available Functions. The options are Date/Time, Math, and Text.
Select the function to The configuration tool for that function will appear to the right of the Available Functions list.
In the Column Name box, enter a name for the new calculated column. This will be the name displayed for the column in the report.
Under Function Inputs, click one of the Click to specify value links to open the Choose a value for
Select the column that you would like to use for the selected Some functions will also allow you to enter an explicit value.
If the selected column function requires additional Function Inputs, repeat steps 5 and 6 as needed until all Function Inputs have been specified.
Click Create Column. This will return you to the Displayed Columns configuration tool and your new column will be available at the bottom of the Current Columns
Re-order the columns in the Current Columns list as necessary by dragging the columns to their desired locations.
Click View Report.