Prompting is a special type of filter. It allows for the user to specify the value being used in a filter at the time the report is opened. This can be especially useful for quickly narrowing the scope of a large report based on a date range that changes frequently. By applying one or more prompting filters, you save yourself (or other report users) from the multi-step process of manually applying the filters each time the report is run.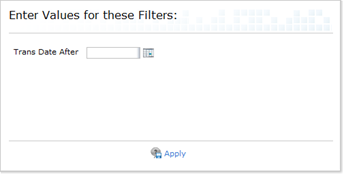 When the user enters a date (either by typing into the text box or selecting it from the calendar), the report will be run and the filter will be applied.
If more than one prompting filter is defined for a report, the filter prompt dialog box will include a text box for each prompting filter that has been defined, similar to the one pictured here.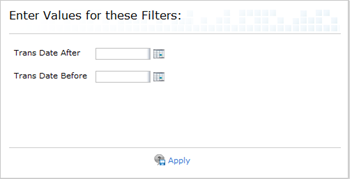 To set up a prompting filter, create a report filter as you normally would, and select the Prompt the Report Viewer for value check box. This activates the prompting for a value on that filter.
If you enter a value into the filter value box, it will be used as the default value in the prompting box. You can also leave the filter value box blank to have the user prompted for a filter value without displaying a default.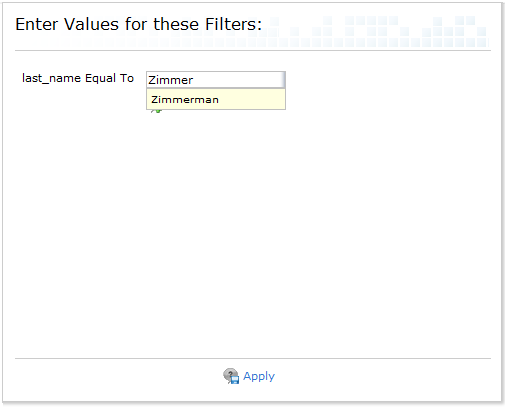 To change the value of a prompting filter while viewing a report, click the Change Prompt Values button in the tool bar.
Emailing a report that includes prompted filters will send the report using default specified values for the prompt. If no default specified values have been specified, the report will be sent as though no filter exists.