In this section we will walk through making your first report in order to get familiar with MITS Discover.
From the Reports tab, click the New button directly under the MITS Discover logo in the upper left corner of the main report selection page, then select Report.

Select the type of report to create. There are a number of options available, but for this example select Trending. This report type will show the difference and percent of change between two or more time periods for a specified value.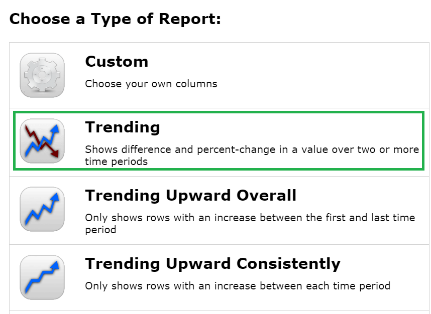 Once you have selected the report type, a page similar to the one shown here will appear. Start by selecting a Hypercube application. We have selected Sales for this example.


Next, select the Initial Drill-Down Path identifier. This can always be changed after the report has been created. For this example, Bill To Customer has been selected. A drill-down path is how you refine the data to display just the report rows you are looking for.




Choose the value that you would like to see in your report. We have selected Sales for this example.


Select a time period group (month, year, etc.) from the Time Periods drop-down menu to filter the list of available time periods, and then select the check boxes next to the time periods you want to compare. In this example, we have selected the time periods Month Oct 2015 and Month Sep 2015. These selections will be combined with our Value to Trend selection of Sales, which means that our report results will be based on two columns.


Click OK to view the report.
The Trending report type produces a report that includes the difference and trend (percent-of-change) between the two time periods for the selected value, as well as the two columns that were used to generate those values for reference purposes.